Garibay Lawn Care & Landscape is a Garibay Siteworks LLC company. We are a minority-owned, family-owned business based in Manhattan, KS. Our services include the following:
Excavation Services
Whether you are digging foundation trenches for your Manhattan, KS area building, or digging a recreational pond, let Garibay Siteworks do the excavating for you.
Utility Trenching
Our utility trenching excavates a narrow, precision trench that allows the installation of pipes, cables and other underground utilities.
Stone Retaining Walls
Stone retaining walls are commonly used for extra support to prevent the earth from moving downhill with erosion. They also help convert sloped land to usable land.
Rolloff Dumpster Rental
We provide a simple, low-cost, and efficient cleanup solution to home clean-out, home and commercial remodeling as well as new construction projects. See our dumpster rental service at GaribayDumpsterRental.com
Skidsteer Services
Use our skidsteer services for material handling, debris and snow removal, backfilling, demolition, roadwork as well as excavating, digging and trenching.
Demolition and Haul-off Services
Do you have a commercial or residential structure that you want torn down quickly, efficiently and without the hassle? Contact us for demolition and haul-off services today.
Land Clearing
We remove trees, brush, boulders and similar debris from your property for land reclamation, property improvement, construction projects or land development.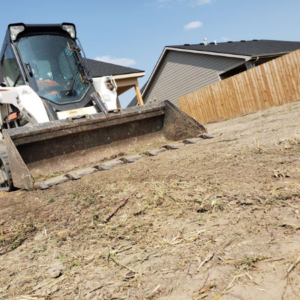 Dirt/Gravel Grading
Use our dirt and gravel grading services to maintain, repair or supply new dirt and gravel to driveways or drainage areas. Use them to correct slope erosion problems as well.
About Garibay Lawn Care
We do it all!
Landscaping, drip irrigation system installation, gardening, landscaping design, shrub maintenance, shrub planting, shrub removal, tree planting.
How does your service stand out?
Garibay Lawn Care has been in landscaping for the past 10 years. We listen to our customer's needs and provide professional landscaping services with incredible attention to detail. Our extensive knowledge of materials and techniques makes us the right choice for your landscaping needs.
What do you enjoy about the work you do?
Turning landscape dreams into realities is why we are in this business. We feel that the home is the most important place on earth and that is why we work on each project like it is our own home. There is no better feeling than exceeding the customer expectation.
Send Us A Message
Feel free to ask any landscaping or gardening questions over the phone, or get in touch via our contact form below. Your message will be dispatched directly to our staff who will answer as soon as they can.
Contact Details
Garibay Lawn Care & Landscaping
1286 Garibay Ln.
Manhattan, KS 66502
Telephone: 785-236-1717
E-mail: GaribayLawn@gmail.com